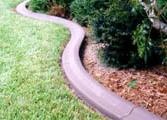 We believe our lawn care is the best to offer. Our service* includes the "traditional edging and blowing" but it doesn't stop there. Our service also includes fertilizing and/or weed treatment at no extra charge! We also offer pre-emergence to prevent weed growth as well as pest control for your lawn to keep it healthy and green.
* Please note we do not require prepayment. We believe in billing for work completed.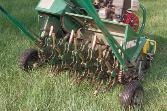 Lawn Aeration– Aeration consists of perforating the soil (and any thatch above it) with small holes that allow water, air, and fertilizer to get closer to the roots. This enables the roots to grow more deeply, producing a more vigorous lawn. Aeration opens up the thatch and helps relieve compaction.  It should be a regular part of your annual lawn maintenance program.  Aeration is accomplished by the use of a machine equipped with cylinder-like spoons designed to penetrate and shatter the soil.  Half inch diameter plugs of thatch and soil are actually pulled from the ground during this process.  The plunging action of the spoons into the ground opens up the soil allowing the grass plants to breathe and promoting deeper, healthier roots.